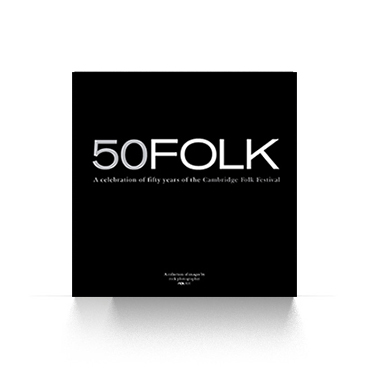 About The Book
This limited edition, fine art, book features a collection of iconic rock photographer Nick Elliott's favourite images of folk, blues and Americana performers shot during his time working with artists, record labels and major music publications at Cambridge Folk Festival.
This 132 page high quality, hard-backed book features over 80 images of 50 artists performing at the festival over a ten year period from 2000 to 2010 and is Nick's own personal celebration of the festival.
Talking about why he chose to produce the book, Nick said: 
"This great festival holds a very special place in my heart.
"So much of my career started at Cambridge Folk Festival that I felt I really wanted to do a celebration of my involvement in only a part of its 50 year history.
"There are so many images I love from my time working there that I wanted to share these and I hope people view them with the same passion with which I shot them."
Capturing the artists' performance like no other photographer, this book is a 'must-have' for all lovers of Nick's work to own and treasure.
Take A look Inside
Cookies must be accepted in order to display this content. Accept
What They Say
"Nick's warm and evocative photographs perfectly capture the intimacy and authenticity of a warm, evocative, intimate and authentic event." – Mark Radcliffe (BBC Presenter)
"Nick's book of photographs captures some of these memories and brings them to life once more. I am honoured to be included in such a brilliant line-up. Thanks Nick." – Richard Hawley (Ex-Pulp, Singer Songwriter)
"Nick's photographs capture a festival performance feeling which is so hard to put into words. It's an honour to be included in his collection." – Bella Hardy (Singer Songwriter)
What Collectors Say
"Your book is one of the more beautiful things I've ever had! Your photos have enchanted me for most of the night!....And I haven't yet see then all!! Thanks." – Raffaella Clementi
The Making Of...
Take a look behind the scenes at: The Making Of...50Folk